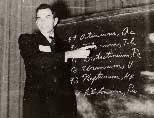 Glenn T. Seaborg speaking at Northwestern University, November 16, 1945.
Lawrence's program started paying off towards the end of the decade. Important scientific findings accumulated in the Rad Lab, making it one of the main centers of the flowering field of nuclear science. Edwin McMillan discovered long-lived

Edwin McMillan and Ernest Lawrence at the control panel of the 60-inch cyclotron, Lawrence Radiation Laboratory, 1939.

radioactive isotopes and, with Glenn Seaborg, Emilio Segrè, Martin Kamen, J.J. Livingood, and Philip Abelson, explored the nuclear and chemical properties of many new isotopes and elements. Luis Alvarez and Felix Bloch measured the magnetic moment of the neutron. Alvarez and Robert Cornog demonstrated that tritium (a proton plus two neutrons) is radioactive, while helium-3 (a neutron plus two protons) is stable. Kamen and Samuel Ruben separated the radioactive isotope carbon-14 and applied it to the study of photosynthesis.