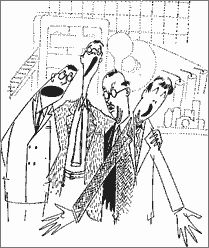 Cold War Science
Up on the lawns of Washington the physicists assemble
From all the land are men at hand, their wisdom to exchange.
A great man stands to speak, and with applause the rafters tremble.
"My friends," says he, "you all can see that physics now must change.
"Now in our lab we had our plans, but these we'll now expand,
Research right now is useless, we have come to understand.
We now propose constructing at an ancient Army base,
The best electro-nuclear machine in any place.
"Oh – it will cost a billion dollars, ten billion volts 'twill give,
It will take five thousand scholars seven years to make it live.
All the generals approve it, all the money's now at hand,
And to help advance our program, teaching students now we've banned."
– "Take Away Your Billion Dollars," by Arthur Roberts (1946), who later commented: "I was impressed by the number of people who thought that it was aimed at them."