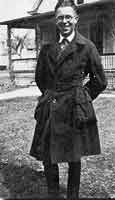 Ernest as the young student and summertime salesman. In college Lawrence bought a surplus Navy radio set from World War I. Striking a bargain on castoff military radio equipment would become a habit.
"Cut-and-try sometimes is more important than too prolonged theorizing."

—W.F.G. Swann,
Lawrence's thesis adviser
Many American scientists of Lawrence's generation matured with the help of a new system of postdoctoral fellowships, which encouraged research rather than teaching. The National Research Council, established during World War I by the National Academy of Sciences, started granting such fellowships in 1919 with funds from the Rockefeller Foundation. American physicists, especially theorists, often used the postdoctoral fellowships to study in Europe. They brought home from Göttingen, Copenhagen, and Munich the new theory of quantum mechanics and began to teach it to their own students. Others, especially experimentalists, did postdoctoral research without going abroad. Lawrence, taking advantage of the first-rate physicists and well-equipped facilities at Yale, used his fellowship to continue research on photoelectricity and to start work on how atoms of a gas struck by electrons are ionized (an ion is an atom that has more or less than its normal number of electrons).