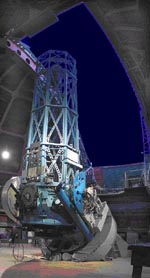 60-inch at
Mt. Wilson
Observatory
The 60-inch saw its first light in December 1908 and by 1909 it was such a success that there was little doubt in the minds of astronomers that large reflecting telescopes were the scientific instruments of the future. Even before the 60-inch was done, Hale was pursuing bigger goals. In 1906, he persuaded J.D. Hooker, a wealthy Los Angeles merchant, to donate $45,000 as seed money to cast and grind a 100-inch mirror.
Getting a high quality glass disk to serve as the mirror blank for the world's biggest telescope was not easy. The first efforts of the St. Gobain glassworks in France failed, and Hale and Ritchey began to despair of getting suitable raw materials. A 100-inch glass disk sent from France to Pasadena in late 1908 was full of small bubbles but, despite Ritchey's objections, Hale persuaded the stubborn optician to start grinding and polishing it. In 1910 Hale and Hooker prevailed upon the industrialist and philanthropist Andrew Carnegie to contribute money to the project. With Hale estimating the cost of the 100-inch at half a million dollars, Carnegie persuaded the foundation that bore his name to provide funding.
Polishing a mirror as large as 100 inches was a major challenge for Ritchey. Dust in the optical shop had to be removed through air filters and the mirror could not be tested during the winter months due to temperature variations in the room. The mirror blank was not completed until the end of 1916. Delays caused by the U.S. entry into World War I hindered the telescope's completion, and the telescope mounting on Mt. Wilson did not receive the giant mirror until July 1917. Finished over budget and behind schedule, the 100-inch telescope was in regular use by 1919. Its completion had another cost—the delays and stress of building the telescope took a great toll on Hale's health. And conflicts between him and George Ritchey resulted, after the 100-inch was completed, in the firing of the dour yet painstakingly careful optician.
Ritchey, however, did not stop developing designs for bigger telescopes. In 1924, he moved to France and began a series of experiments to build giant mirrors. Ritchey was inspired by Progressive-era ideals and envisioned a series of observatories around the world whose telescopes— he called them "massive guns of Peace"—would have mirrors as large as 400 inches in diameter. While his ultimate dream was not realized, Ritchey continued to conceive many important ideas for telescope design that later became standard in telescope design decades later.