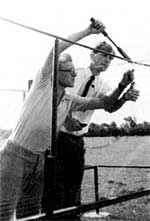 Ryle, on the right, soldering part of the antenna with his colleague Hewish.
To many philosophical minds, the steady-state universe proposed by Hoyle, Bondi and Gold had a major advantage over the big-bang expanding universe. In their universe the overall density was kept always the same by the continuous creation of matter. In the big-bang universe with its radically changing density, various physical laws might not apply the same way at all times. It would be impossible to extrapolate with confidence from the present back to the super-dense origin of the universe.
Tommy Gold (left) with Hermann Bondi (center) and Fred Hoyle (right), circa 1960.
Steady-state theory also had an observational advantage over big-bang theory in 1948. The rate of expansion then observed, when calculated backward to an initial big bang, gave an age for the universe of only a few billion years—well below the known age of the solar system! That was certainly an embarrassment for the big bang theory.
For some time cosmologists had measured ideas against a "cosmological principle," which asserted that the large-scale properties of the universe are independent of the location of the observer. In other words, any theory that put we humans at some special place (like the center of the universe) could be rejected out of hand. Bondi and Gold insisted that the universe is not only homogenous in space but also in time—it looks the same at any place and at any time. They grandly called this the "perfect cosmological principle," and insisted that theory should be deduced from the axiom that we are not at any special place in either space or time.
Hoyle was less insistent that the perfect cosmological principle was a fundamental axiom. He preferred to have theory follow from a modification he proposed to Einstein's relativistic universe, adding the creation of matter. The two different steady-state theories had enough in common, however, to be considered one for most purposes.
Much of the later development of steady-state theory came in response to criticism. In Great Britain, especially, scientists gave considerable attention to elaborating the theory. Their arguments were largely of a philosophical nature, with little appeal to observation.
The cosmological debate acquired religious and political aspects. Pope Pious XII announced in 1952 that big-bang cosmology affirmed the notion of a transcendental creator and was in harmony with Christian dogma. Steady-state theory, denying any beginning or end to time, was in some minds loosely associated with atheism. Gamow even suggested steady-state theory was attached to the Communist Party line, although in fact Soviet astronomers rejected both steady-state and big-bang cosmologies as "idealistic" and unsound. Hoyle himself associated steady state theory with personal freedom and anti-communism.
Astronomers in the United States found the steady-state theory attractive, but they took a pragmatic approach. The rival claims of big-bang and steady-state theory must be settled by observational tests. One test involved the ages of galaxies. In a steady state, with continuous creation of matter, there would be a mixture of young and old galaxies throughout the universe. In a big bang, with only an initial creation, galaxies would age with time. And astronomers could look back in time by looking at more distant galaxies, for observing a galaxy a billion light-years away meant seeing it in light that had left it a billion years ago. Observations reported in 1948 purported to find that more distant galaxies were indeed older. Score one for the big bang. Bondi and Gold reviewed the data carefully, and in 1954 they showed that the reported effect was spurious. Score one for steady state. The age test might be able to distinguish between the rival theories in principle, but in practice it could not.
Another possible test involved the rate of expansion of the universe. In a big bang, the expansion rate would slow; in a steady state universe it would remain constant. Data from the Mount Wilson Observatory seemed to favor the big bang, but not certainly enough to constitute a crucial test.
Meanwhile there was a solution to the embarrassing calculation that put the age of a big-bang universe less than the age of the solar system. Walter Baade showed that estimates of the distances to galaxies had mixed together two different types of stars (as explained here). As a result, the size of the universe had been underestimated by about a factor of two. If galaxies were twice as distant as previously thought, then calculation with the observed rate of expansion gave an age of the universe twice as great as previously calculated — safely greater than the age of the solar system. That argument against the big-bang universe thus dissolved.
The most serious challenge to steady-state theory came from the new science of radio astronomy. Fundamental knowledge in the techniques of detecting faint radio astronomy signals advanced greatly during World War II, especially with research on radar and especially in England. After the war, research programs at Cambridge, at Manchester, and at Sydney, Australia, built radio telescopes to detect signals from outer space. They dominated radio astronomy for the next decade.
The program at Cambridge was led by Martin Ryle, who in 1974 would receive the Nobel Prize in physics for his overall contributions to radio astronomy. In 1951 Ryle believed that radio sources were located within our galaxy, and hence were of no cosmological interest. But over the next few years he became convinced that most of the radio sources he was detecting were extragalactic. His observations, then, could be used to test cosmological models. Ryle argued that his survey of almost 2,000 radio sources, completed in 1955, contradicted steady-state theory, because more distant/older sources seemed to be distributed differently from nearby ones. But he overstated the significance of his initial data. Only after more years of work would radio observations argue strongly against steady-state theory.