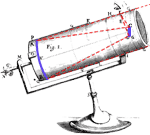 (click to enlarge)
Newton's telescope design
Well into the 18th century, astronomers mainly used long refracting telescopes, designed around a meticulously shaped glass lens. However, other telescope designs offered a way to avoid some of the defects that could not be avoided in refractor lenses. In 1668, Isaac Newton devised a reflecting telescope. Instead of a lens, it used a single curved main mirror, together with a smaller flat mirror. In the next century, huge instruments descended from Newton's design turned out to be especially useful for studying very faint objects, such as the dim patches of light known as nebulae. The studies that the new and bigger tools made possible led to fundamental changes in our understanding of the universe.
...I contrived heretofore
a Perspective by Reflexions...
Scholars knew that you could get magnification using a variety of combinations of lenses and mirrors. A number of scientists speculated on telescopes that used mirrors, fueled by an increasingly refined theoretical study of optics. One landmark was the Dioptrique of René Descartes, appended to his Discourse on Method of 1637. Here Descartes addressed the problem of spherical aberration — a slight blurring of any image that was created by a lens or mirror curved like a segment of a sphere.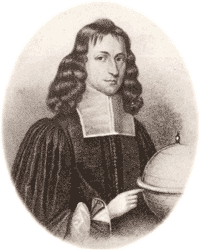 Portrait of James Gregory
A Scottish mathematician, James Gregory, proposed a new design for a reflecting telescope in his 1663 book Optica Promota. Gregory's theoretical design featured a primary mirror with a parabolic curvature. It would reflect light to an elliptical secondary mirror, which reflected it back down through a hole in the primary to the astronomer's eye. The Gregorian design, along with the superficially similar Cassegrain design (named after an obscure 18th century Frenchman), would eventually become the predominant design for reflecting telescopes. But at the time these designs were proposed, opticians could not polish mirrors in curves that were not spherical. Some London opticians tried to produce reflecting telescopes, but failed.
The most significant development came when Isaac Newton, after his groundbreaking research in light and optics, concluded that refracting telescopes would always be defective. For any lens would, like a prism, disperse the colors of light, in direct proportion to the refraction. The result was chromatic aberration—the image of a white star would always show a smear of colors. So Newton turned his attention to the design of a practical telescope which would use a mirror to collect starlight.