Edwin Hubble (1889-1953)
In high school and at the University of Chicago Hubble was a star athlete as well as a scholar. Hubble was two years younger than most of his classmates, but he was 6 feet 3 inches tall and very well coordinated. Usually he placed in Big Ten dual track meets, in both the shot put and the high jump.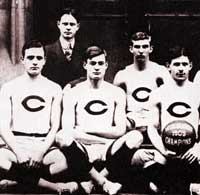 The University of Chicago 1909 intercollegiate championship basketball team. Hubble is on the left.
In 1910 Hubble went to Oxford University as a Rhodes Scholar. It was a high honor, awarded to a small number of outstanding student-athlete-leaders. At Oxford Hubble studied Roman law and Spanish, competed in track and field events and swam on the water polo team. He later said he fought an exhibition boxing match against the French national champion, and did well enough that promoters wanted him to train to fight the world heavyweight champion. Hubble also told of a duel with a German naval officer whose wife had flirted with the handsome Hubble — to satisfy the officer's honor they harmlessly discharged pistols in a library. These stories may tell us less about actual events than about Hubble's lifelong drive to promote a romantic image of himself.
After three years at Oxford, Hubble returned to his family home in Louisville, Kentucky. He taught physics and Spanish at a high school and also became a member of the Kentucky bar, but never actually practiced law. In 1914 he returned to the University of Chicago and the Yerkes Observatory. He hoped to finish his doctoral dissertation on a photographic investigation of faint nebulae and take up a position at the Mount Wilson Observatory in the summer of 1917.