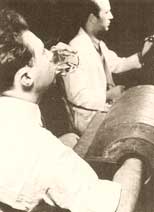 Rad Lab staff demonstrated the potential application of radioactive isotope tracers in public lectures. A volunteer would drink a "radiosodium cocktail" of salt water containing radiosodium, and trace its progress through the body with Geiger counters.
The federal government also provided support through two New Deal agencies, the Works Progress Administration and the National Youth Authority, which put electricians, machinists, carpenters, and other technical assistants to work in the Rad Lab on the government's payroll. The Depression also produced a steady supply of physicists willing to work for nothing in order to learn cyclotronics. From 1933 to 1940 the Rad Lab had several graduate and postdoctoral students paying their own way at the lab. They helped the Rad Lab staff grow from a total of ten in 1932 to sixty in 1939.
Lawrence found another important way to elicit funds—appeals to biomedical applications. Lawrence's colleague David Sloan had put his linear accelerator to work at the university's medical school as a powerful source of X-rays. The example encouraged Lawrence to promote similar applications of the cyclotron, such as the production of radioactive isotopes, which had medical uses in attacking cancers and as "tracers" in research on metabolism, and beams of neutrons, which promised to rival the utility of X-rays.

Philanthropies at the time donated far more money to medicine, public health, and biology than to physics. In 1933 the Rockefeller Foundation, a dominant supporter of American fundamental research in years between the wars, decided to concentrate on applications of the methods of physics and chemistry to biology and medicine. But Lawrence did not just give lip service to biomedicine. He believed in the promise of particle accelerators as a possible weapon against cancer. In 1937 Lawrence brought his mother, diagnosed with inoperable cancer, to San Francisco for treatment with Sloan's X-ray tube, after which her condition dramatically improved.