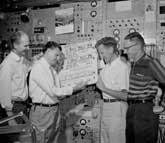 Albert Ghiorso updates the periodic table as codiscoverers (l. to r.) Robert Latimer, Torbjorn Sikkeland, and Almon Larsh look on.


Ernest Lawrence, in 1954, less than four years
before his death.
Lawrence also argued against a test ban on technical grounds, pointing to the difficulty of detecting hidden tests. His advocacy earned him an appointment as an American delegate to an international "Conference of Experts" in Geneva in the summer of 1958, where scientists discussed the technical aspects of monitoring a test ban. Lawrence accepted the duty reluctantly, for he feared the stress of the trip would worsen his frequent flare-ups of colitis. Midway through the conference he fell ill and was rushed back to the U.S. Lawrence died following surgery for colitis on August 27, 1958, at the age of fifty-seven. A few days before Lawrence's death, and in part as a result of the work of the American delegation in Geneva, Eisenhower announced a moratorium on nuclear weapons testing by the U.S., which the Soviet Union joined. The international moratorium on nuclear explosions lasted only to 1961 when the French broke it. An international treaty of 1963 allowed nuclear tests only underground, thus putting an end to fallout but not weapons development.


---
Dedication of the Lawrence Hall of Science.

Lawrence left a large legacy. The development of the cyclotron helped change our understanding of nature, from the microscopic structure of matter to human metabolism, from the process of photosynthesis to the creation of new chemical elements. One of these elements is number 103, lawrencium, named after the inventor of the cyclotron. No less important, Lawrence created the model of the big-science laboratory, which spread through the Manhattan Project to the national laboratories in the U.S. and thence to other countries. Two of these labs, the Lawrence Berkeley National Laboratory and Lawrence Livermore National Laboratory, bear his name. Lawrence's labs have pushed the interdisciplinary approach into such fruitful new fields as environmental research, alternative energy sources, astrophysics, and molecular biology. For the last field, the Berkeley and Livermore labs served as two of the main centers of the Human Genome Project. The Lawrence labs helped build the first atomic bombs and then drove ahead into a dangerous arms race with the Soviet Union, but firmly believed that they thus prevented a nuclear war. The Atomic Energy Commission recognized Lawrence's central role in the development of atomic energy by establishing annual Lawrence Awards to honor the work of young scientists. The awards are still given annually by the Department of Energy.