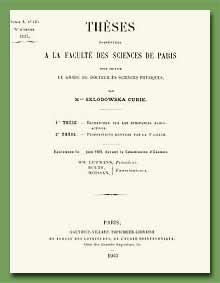 Title page of the published version of Marie Curie's doctoral thesis, "Research on Radioactive Substances." The examiners exclaimed that Curie's doctoral research contributed more to scientific knowledge than any previous thesis project.
Another foreign admirer was a last-minute guest at a dinner to celebrate Marie's achievement. New Zealand-born scientist Ernest Rutherford, who was also actively engaged in research in the new science of radioactivity, was visiting Paris. He had stopped by the Municipal School shed where Marie isolated radium, and at dinner that night he asked Marie how they managed to work in such a place. "You know," he said, "it must be dreadful not to have a laboratory to play around in."

AMILY LOSSES UNDERCUT some of the pleasure Marie could take in her own achievements. In August 1903 she experienced a miscarriage. Some time later Bronya's second child died of tubercular meningitis. And against the backdrop of these specific losses was the fact that Pierre's health continued to deteriorate. Sometimes unbearable pain kept him awake all night, lying weakly in bed, moaning.