.
Tragedy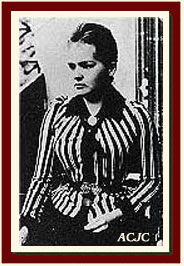 In 1906 just as we were definitely giving up the old shed laboratory where we had been so happy, there came the dreadful catastrophe which took my husband away from me and left me alone to bring up our children and, at the same time, to continue our work of research.

It is impossible for me to express the profoundness and importance of the crisis brought into my life by the loss of the one who had been my closest companion and best friend. Crushed by the blow, I did not feel able to face the future. I could not forget, however, what my husband used sometimes to say, that, even deprived of him, I ought to continue my work.

The death of my husband, coming immediately after the general knowledge of the discoveries with which his name is associated, was felt by the public, and especially by the scientific circles, to be a national misfortune. It was largely under the influence of this emotion that the Faculty of Sciences of Paris decided to offer me the chair, as professor, which my husband had occupied only one year and a half in the Sorbonne. It was an exceptional decision, as up to then no woman had held such a position.... The honor that now came to me was deeply painful under the cruel circumstances of its coming.

—from Autobiographical Notes pp. 191-192.
---
Selections from Marie Curie's diary

We put you into the coffin Saturday morning, and I held your head up for this move. We kissed your cold face for the last time. Then a few periwinkles from the garden on the coffin and the little picture of me that you called "the good little student" and that you loved. It is the picture that must go with you into the grave, the picture of her who had the happiness of pleasing you enough so that you did not hesitate to offer to share your life with her, even when you had seen her only a few times. You often told me that this was the only occasion in your life when you acted without hesitation, with the absolute conviction that you were doing well. My Pierre, I think you were not wrong. We were made to live together, and our union had to be.

Your coffin was closed and I could see you no more. I didn't allow them to cover it with the horrible black cloth. I covered it with flowers and I sat beside it....

They filled the grave and put sheaves of flowers on it. Everything is over, Pierre is sleeping his last sleep beneath the earth; it is the end of everything, everything, everything.

I am working in the laboratory all day long, it is all I can do; I am better off there than anywhere else. I conceive of nothing any more that could give me personal joy, except perhaps scientific work–and even there, no, because if I succeeded with it, I would not endure you not to know it.

—from Madame Curie p. 249.