.
Fame and Illness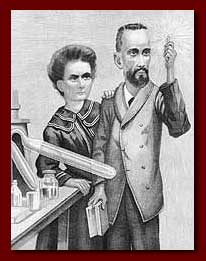 In 1903 I finished my doctor's thesis and obtained the degree. At the end of the same year the Nobel prize was awarded jointly to Becquerel, my husband and me for the discovery of radioactivity and new radioactive elements.

This event greatly increased the publicity of our work. For some time there was no more peace. Visitors and demands for lectures and articles interrupted every day....

The fatigue resulting from the effort exceeding our forces, imposed by the unsatisfactory conditions of our labor, was augmented by the invasion of publicity. The overturn of our voluntary isolation was a cause of real suffering for us and had all the effect of disaster. It was serious trouble brought into the organization of our life, and I have already explained how indispensable was our freedom from external distraction, in order to maintain our family life and our scientific activity. Of course, people who contribute to that kind of trouble generally mean it kindly. It is only that they do not realize the conditions of the problem.

—from Autobiographical Notes pp. 190-191.
---
Letters from Pierre Curie to his friend E. Gouy
As you have seen, fortune favors us at this moment; but these favors of fortune do not come without many worries. We have never been less tranquil than at this moment. There are days when we scarcely have time to breathe. And to think that we dreamed of living in the wild, quite removed from human beings!


---
I have wanted to write to you for a long time; excuse me if I have not done so. The cause is the stupid life which I lead at present. You have seen this sudden infatuation for radium, which has resulted for us in all the advantages of a moment of popularity.

We have been pursued by journalists and photographers from all countries of the world; they have gone even so far as to report the conversation between my daughter and her nurse, and to describe the black- and-white cat that lives with us.... Further, we have had a great many appeals for money.... Finally, the collectors of autographs, snobs, society people, and even at times, scientists, have come to see us—in our magnificent and tranquil quarters in the laboratory—and every evening there has been a voluminous correspondence to send off. With such a state of things I feel myself invaded by a kind of stupor. And yet all this turmoil will not perhaps have been in vain, if it results in my getting a chair and a laboratory.


---
We have regretted so much being deprived of your visit this year, but hope to see you in October. If we do not make an effort from time to time, we end by losing touch with our best and most congenial friends, and in keeping company with others for the simple reason that it is easy to meet them.

We continue to lead the same life of people who are extremely occupied, without being able to accomplish anything interesting. It is now more than a year since I have been able to engage in any research, and I have no moment to myself. Clearly I have not yet discovered a means to defend ourselves against this frittering away of our time which is nevertheless extremely necessary. Intellectually, it is a question of life or death.


---
I am neither very well, nor very ill; but I am easily fatigued, and I have left but very little capacity for work. My wife, on the contrary, leads a very active life, between her children, the School at Sèvres, and the laboratory. She does not lose a minute, and occupies herself more regularly than I can with the direction of the laboratory in which she passes the greater part of the day.

—from Pierre Curie pp. 127-129.