.
The Struggle to Isolate Radium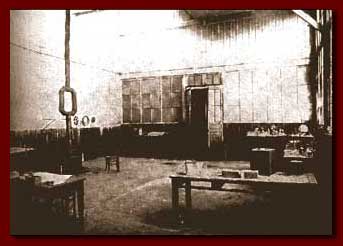 The School of Physics could give us no suitable premises, but for lack of anything better, the Director permitted us to use an abandoned shed which had been in service as a dissecting room of the School of Medicine. Its glass roof did not afford complete shelter against rain; the heat was suffocating in summer, and the bitter cold of winter was only a little lessened by the iron stove, except in its immediate vicinity. There was no question of obtaining the needed proper apparatus in common use by chemists. We simply had some old pine-wood tables with furnaces and gas burners. We had to use the adjoining yard for those of our chemical operations that involved producing irritating gases; even then the gas often filled our shed. With this equipment we entered on our exhausting work.

Yet it was in this miserable old shed that we passed the best and happiest years of our life, devoting our entire days to our work. Often I had to prepare our lunch in the shed, so as not to interrupt some particularly important operation. Sometimes I had to spend a whole day mixing a boiling mass with a heavy iron rod nearly as large as myself. I would be broken with fatigue at the day's end. Other days, on the contrary, the work would be a most minute and delicate fractional crystallization, in the effort to concentrate the radium. I was then annoyed by the floating dust of iron and coal from which I could not protect my precious products. But I shall never be able to express the joy of the untroubled quietness of this atmosphere of research and the excitement of actual progress with the confident hope of still better results. The feeling of discouragement that sometimes came after some unsuccessful toil did not last long and gave way to renewed activity. We had happy moments devoted to a quiet discussion of our work, walking around our shed.

One of our joys was to go into our workroom at night; we then perceived on all sides the feebly luminous silhouettes of the bottles or capsules containing our products. It was really a lovely sight and one always new to us. The glowing tubes looked like faint, fairy lights.

—from Autobiographical Notes pp. 186-187.