Plato (428-348/347 B.C.E.)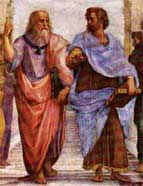 Plato points to the heavens, his student Aristotle to the ground, in Raphael's painting of the School of Athens (detail).

Plato's philosophy and its implications for Greek cosmology are understandable as a response to social and political troubles. Plato was of an age to enter public life when the Thirty Tyrants, including two of his relatives, ruled Athens. Their actions disgusted Plato. When their rule was overthrown, Plato again considered joining the government. But then the democracy persecuted his teacher and friend Socrates. Subsequent experiences, perhaps including an encounter with the dictator of Syracuse, confirmed Plato's dismay over the actions of rulers. He searched for unchanging standards to hold against the shifting judgments of men.