.
Meeting Pierre Curie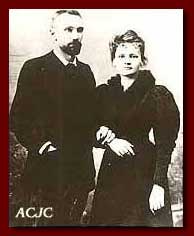 I met Pierre Curie for the first time in the spring of the year 1894.... A Polish physicist whom I knew, and who was a great admirer of Pierre Curie, one day invited us together to spend the evening with himself and his wife.

As I entered the room, Pierre Curie was standing in the recess of a French window opening on a balcony. He seemed to me very young, though he was at that time thirty-five years old. I was struck by the open expression of his face and by the slight suggestion of detachment in his whole attitude. His speech, rather slow and deliberate, his simplicity, and his smile, at once grave and youthful, inspired confidence. We began a conversation which soon became friendly. It first concerned certain scientific matters about which I was very glad to be able to ask his opinion. Then we discussed certain social and humanitarian subjects which interested us both. There was, between his conceptions and mine, despite the difference between our native countries, a surprising kinship, no doubt attributable to a certain likeness in the moral atmosphere in which we were both raised by our families.

We met again at the Physics Society and in the laboratory. Then he asked if he might call upon me.... Pierre Curie came to see me, and showed a simple and sincere sympathy with my student life. Soon he caught the habit of speaking to me of his dream of an existence consecrated entirely to scientific research, and he asked me to share that life. It was not, however, easy for me to make such a decision, for it meant separation from my country and my family, and the renouncement of certain social projects that were dear to me. Having grown up in an atmosphere of patriotism kept alive by the oppression of Poland, I wished, like many other young people of my country, to contribute my effort toward the conservation of our national spirit....

During the year 1894 Pierre Curie wrote me letters that seem to me admirable in their form. No one of them was very long, for he had the habit of concise expression, but all were written in a spirit of sincerity and with an evident anxiety to make the one he desired as a companion know him as he was.... It is appropriate to quote here a few lines which express how he looked on the possibility of our marriage:


"We have promised each other (is it not true?) to have, the one for the other, at least a great affection. Provided that you do not change your mind! For there are no promises which hold; these are things that do not admit of compulsion.

"It would, nevertheless, be a beautiful thing in which I hardly dare believe, to pass through life together hypnotized in our dreams: your dream for your country; our dream for humanity; our dream for science. Of all these dreams, I believe the last, alone, is legitimate. I mean to say by this that we are powerless to change the social order. Even if this were not true we should not know what to do.... From the point of view of science, on the contrary, we can pretend to accomplish something. The territory here is more solid and obvious, and however small it is, it is truly in our possession."

One can understand, from this letter, that for Pierre Curie there was only one way of looking at the future. He had dedicated his life to his dream of science: he felt the need of a companion who could live his dream with
him



—from Pierre Curie pp. 72-77.